English+ Online Tutoring (Small Group)
English+ Online Tutoring (Small Group) provides high quality and interactive live English lessons for Kindergaten and P1 to P6 students. Students are grouped by grade in a class size of 5-10 people. Students will learn language skills in all area, including reading, writing, listening, speaking, grammar and vocabulary.
This small class tutoring is especially deisgned for students who want to get individual feedback from teachers and learn speaking, presentation and public speaking with peers and teachers. That is what we do - Maximize your potential in the mainstream English online classrooms.
Features
•Native-speaking licensed English teachers from U.S. as main instructors who bring rich experience and proven success teaching English courses.
•Close reference with local (EDB) and international English curriculum to build English proficiency.
•Multi-pronged approach helps students improve reading, writing, listening, speaking skills; build up vocabulary and practice like native speakers.
•Live online classes are grouped by grade; there is one session offered every week.
•Full sets of video replay on the live classes of the grade that learners enroll, so you will never miss a session.
Learning content
Here are the samples of the teaching contents: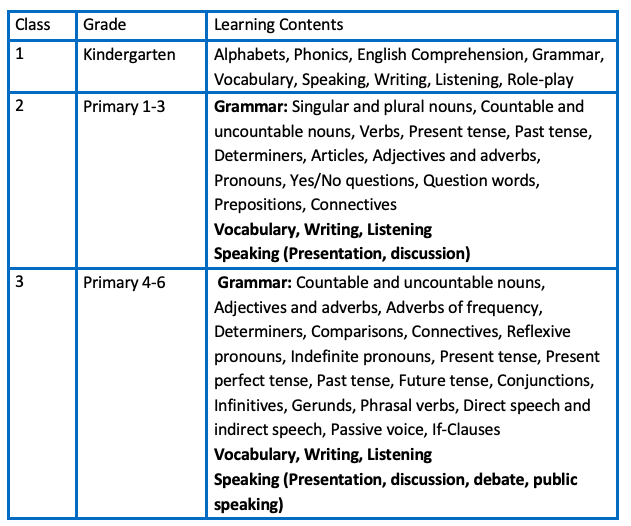 Class Size
Small Group (5-10 students)
Schedule
Class A: Starting from 24/10/2020, every Saturday, 10am
Class B:Starting from 25/10/2020, every Sunday, 10am
Length
One hour each for each lesson, 10 lessons in total
*All sessions are recorded and are available to students for review. Although students who enroll after the start date may miss a few sessions, you can review the recorded videos of any session you missed on the "My Course" Page.
How to enroll?
-Choose "Book Now"
-Pay by points or pay by cash
-Attend the class on "My courses"